AI-BASED RANKINGS
Imagine supercharging your investment process by leveraging AI
Axyon AI's models learn to rank assets according to their expected performance. These AI-based rankings can be used to sort the assets belonging to the investment universe according to their expected performance on a given time horizon in the future (say, a week, a month, or three months).


Tailored for a specified investment universe and timeframe, these rankings can help you distil complex data into actionable insights.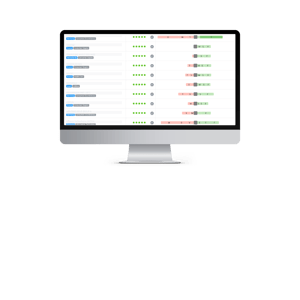 How can we integrate AI signals into existing Investment processes?
BUILD AN AI-DRIVEN STRATEGY
The first way to integrate AI is building out from scratch a fully-fledged AI-based strategy. To build such a strategy, an investor could transform the daily AI-based rankings into target portfolio weights. As an example, a portfolio manager could choose to create a long-only strategy that every week puts equal weight on each of the top 30 assets of the AI-based ranking.


ALTERNATIVE ALPHA GENERATING DATA SOURCE
Another approach is combining AI signals with custom proprietary investment factors to create enhanced quantitative strategies. Quants could literally treat AI signals and rankings as an alternative alpha-generating data source.
AI INTEGRATION
Finally, a portfolio manager could integrate AI-based rankings into an already existing investment process. As an example, a portfolio manager could use predictive rankings to overweight or underweight assets already belonging to his portfolio
The choice between these alternatives depends on the characteristics of the investment team, the business needs, and the constraints an investor has to comply with.