Optimised Indices & Model Strategies
Dive into our AI-driven investment solutions, refined processes, and data-driven excellence

Technology is key to everything we do. Be it developing optimised indices, building AI-powered model strategies and creating predictive asset performance rankings.

Decoding Model Strategies
Think of a model strategy as our financial compass, directing investment allocations precisely. Now, infuse it with AI, and what you get is an automated investment plan —astutely leveraging computational insights and vast data for sharper, data-driven decisions.

Robust Process
Our AI-enhanced model strategies aren't just a product of innovation. They result from a rigorous process refined over seven years. We begin by intimately understanding our client's investment goals, be it the universe, horizon, benchmark, or risk constraints. But that's just the start.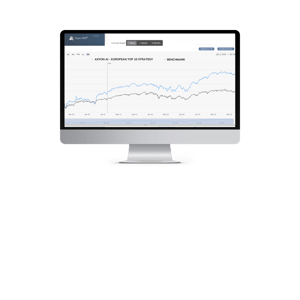 Unleashing the power of AI
Data-Driven Excellence
Data is at the centre of every AI engine, and data preparation is one of the most critical phases in which our team meticulously validates data, identifies inconsistencies, and engineers features. The end goal?
Training machine learning models to rank financial asset predictive performance based on expected returns.
If you want to dive deeply into how we build, train and deploy our models, please check our TECHNOLOGY page.



Signals to Strategies
Post-deployment, our AutoML engine translates complex AI signals into actionable insights. But we don't stop there.
We harness these insights, creating strategies with our algorithms - strategies that identify potential market champions and underperformers, all tailored to our client's specific investment needs.


COVERAGE
From Global Large Cap Equities to European Equity Indices, our AI-powered relative performance predictions' coverage can also be adjusted to suit any customized need:
US and Europe large/mid-caps
Specific coverage on Italy and the UK
Equity indices, sector indices, energy derivatives
Asset-agnostic and customisable coverage to meet specific investment needs in terms of universes and styles